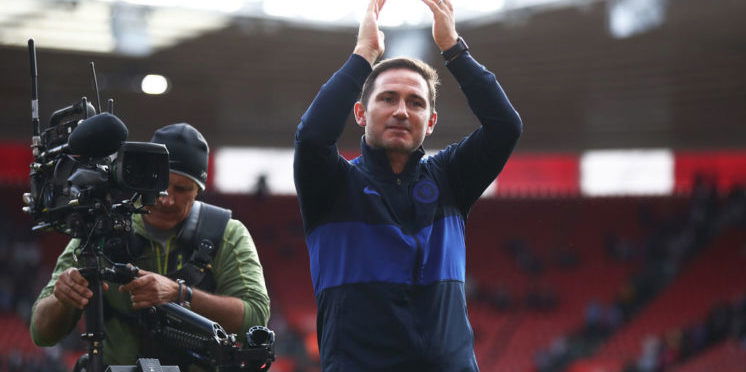 The first 100 days: How has Lampard's Chelsea career started?
As Frank Lampard passes the 100-day mark in charge of Chelsea, we explore the good, bad and ugly of his first few months in the dugout.
Former United States President; Theodore Roosevelt, was the first to begin the "first 100 days in office" shenanigans but it has far more significance these days than even Roosevelt would've imagined.
The first 100 days are now considered a benchmark for either failure or success of a President's tenure. But football managers are in reality no different from political leaders these days. They experience similar pressures, are constantly scrutinised by a large population and are always being pressed for results.
When Frank came in, he promised us that he would "work hard" and that is exactly what he has made his Chelsea team do This season, Chelsea players have had to press and run so much more compared to last season. The cumulative distance covered by the team after eight games is almost the equivalent to the distance covered after 13 games last season.
The method of the press is actually quite similar to that of the Gegen pressing of Jurgen Klopp rather than that of Pep Guardiola. Lampard's hardworking pressing system has somehow made the team achieve a lot more interceptions, more tackles and generally retrieving the ball faster than before.
We have also seen the emergence of young academy graduates who are constantly picked to start games ahead of more experienced names.
Lampard has shown that he isn't afraid to pick and drop players no matter the amount of experience or age. He stuck with Tammy Abraham when many thought Oliver Giroud would've been a better option and he willingly let David Luiz go without batting an eyelid over the summer.
This trust in youth coupled with his 'train well and you'll play' approach has so far proven to be quite fruitful. What makes it more interesting is that each of the players selected (veterans and youngsters) have proven their worth so far.
Furthermore, the revitalisation of Jorginho has to be the most notable turnaround during Lampards' first 100 days. A player previously criticised for too many short passes is now often seen spreading long balls to the opposite wing with relative ease.
His defensive work rate has improved drastically, the Italian has made more tackles and more interceptions this season compared to last after the same number of games. It's fair to say that the epitome of Sarri-ball is now the engine room for the Lampard revolution.
Moreover, Lampard has brought to Stamford Bridge a tactical flexibility that we didn't see throughout the Sarri-ball season. He's shown that he isn't afraid to shake things up before and during matches with changes from a back three to a back four happening regularly during matches.
We've also seen a faster and more efficient method of attack that we haven't seen for years at Stamford Bridge – similar to the end of Carlo Ancelloti's first season when Chelsea were scoring goals for fun.
The first eight games of this season have seen the new look Chelsea side create the highest number of chances in the last few years and the expected goals ratio (xG) is also impressive. The problem though has been the inability to take a lot of these chances. But then, even with the woeful finishing this season, Chelsea have actually scored more goals per match than last season and appear on course to score more than the previous two seasons.
However, we have also seen defensive flaws that would have been impossible during Lampard's playing days. The defence lacks a bit of organisation and cohesion, possibly because of the lack of leaders at the back. The inability to mark players effectively during set pieces leaves a lot to be desired and the schoolboy errors at the back by Kurt Zouma and most recently Fikayo Tomori leaves Chelsea fans with their hearts in their mouths.
It's fair to say it's been a rollercoaster season for many Chelsea fans so far with Frank Lampard at the helm, but the early signs show a lot of positives and only a few negatives. It would be better to judge Super Frank at the end of the season but until then, Chelsea fans should fasten their seat belts, the ride has only begun.
---