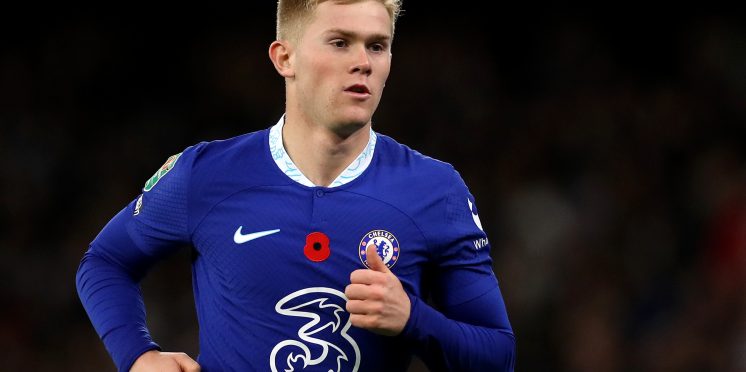 How did Lewis Hall get on vs Man City, amid optimism from Athletic reporter?
The magic that comes with the League Cup spills out in the form of opportunities that are granted to youth stars who tend to feature in the rotated squads across the early stages of the tournament.
For Chelsea's game against Manchester City, that was no different.
The likes of Armando Broja, Christian Pulisic and Hakim Ziyech led a heavily rotated front-line for Chelsea, and Manchester City operated in the same way, granting Cole Palmer, Stefan Ortega, Sergio Gomez and Rico Lewis respective starts against the Blues.
A surprising inclusion for Chelsea came in the form of 18-year-old Lewis Hall, who operated as a left midfielder/wing-back for Graham Potter, and shone whilst doing so.
Just moments before the game, The Athletic's Chelsea reporter Simon Johnson took to his fans discussion forum and stated his excitement in watching the star perform in such a high-profile occasion.
Johnson kicked off the discussion forum saying this: "Well hello everyone…how optimistic are you feeling? I suspect not very. Will Chelsea bounce back from Arsenal disappointment or more of the same? I'm looking forward to watching Lewis Hall whatever happens. Let's talk it out.
It turns out that Johnson was right to be excited at watching the latest Cobham graduate strut his stuff against top-class opposition.
Hall was a shining light for the Blues, bringing an element of unpredictability to the occasion and displaying his immaculate ability to escape danger with his high-dosage of technical nous.
The 18-year-old certainly didn't falter to the pressure that came in the form of vast anticipation from Chelsea fans and could easily have scored, racking up an xGOT (Expected goals on target) metric of 1.36 from his two shots.
It's worth noting that Hall completed the most dribbles in the game with three, and was also the joint-most fouled player on the pitch with three, matching up with Jack Grealish.
Ultimately, Chelsea could not cope with the machine that is Manchester City and extended their faltering run to six games without a clean sheet.
But, patience is needed now that the honeymoon period is seemingly over, with all eyes on the January transfer window in the club's desire to revitalise the squad.
Though, with that kind of performance, the integration of Hall as a first-team regular could well provide a similar impact to that of a new signing.
---