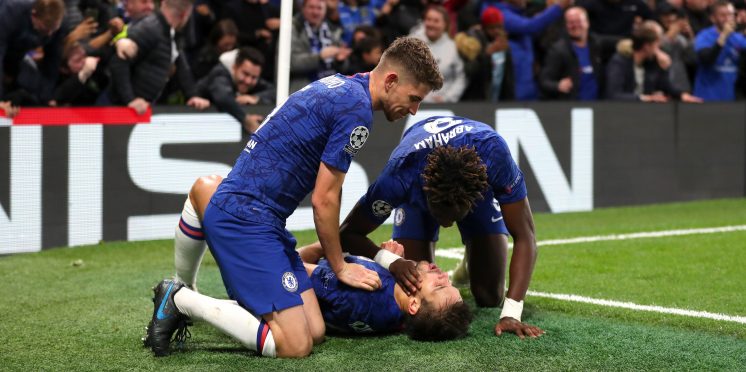 Chelsea come back from the dead
Chelsea vs Ajax in game week four of the Champions League was a fixture that was sure to have it all and it did not disappoint.
Chelsea brought the tie back from 4-1 to 4-4 in late and dramatic fashion, and even had a winner ruled out by VAR.
The game began with a bang as a free-kick from Quincy Promes clipped Tammy Abraham's trailing leg and hit the back of the net after just two minutes played. Chelsea responded instantly as Jorginho converted a spot-kick from 12 yards. 
Ajax went through the gears and once again took charge of the game after a second from Promes, this time with his head. Chelsea continued to appear worrisome in defence, with both full-backs conceding multiple fouls in dangerous positions. This proved to be the downfall for Lampard's men, as Hakim Ziyech curled in a free-kick from almost the corner flag which proceeded to come off the far post before hitting Kepa Arrizabalaga on the head, then into the goal, extending Ajax's lead. 
A half-time substitution saw Reece James enter the field, replacing Marcos Alonso after a rather lacklustre performance thus far. Ajax quickly pounced and grabbed a fourth through Donny van de Beek, and Chelsea looked down and out.
Captain Cesar Azpilicueta, now playing left-back, injected some life into the entire Chelsea team, the fans, and most importantly Frank Lampard when he found himself on the end of a loose ball in the Andre Onana's six-yard box, and the home side could hope again.
This new surge of life for the Blues was elevated when referee Gianluca Rocchi dished out two red cards to Daley Blind and Joel Veltman, leading to another penalty in which Jorginho slotted home again.
What was deemed impossible when Chelsea conceded a fourth, was now very much on the cards. Willian sent in a corner onto the towering head of Kurt Zouma, who's last-ditch attempt rattled the crossbar, only to land directly in the path of Reece James, and the 19-year-old unleashed a strike that will be forever etched in Chelsea's history. Frank Lampard's men had achieved the impossible and were now spurred on to win the game.
Cesar Azpilicueta struck gold as he pummeled his effort into the far right corner and gave Chelsea the lead for the first time in the game, and Stamford Bridge erupted. The celebrations didn't last long though, as Rocchi ruled out the winning goal due to a handball from Abraham in the build-up.
Despite the incredible comeback and display of determination from the home side, a feeling of dismay floated around the stadium, as Chelsea felt they should have collected three points. However, the game will be remembered for years to come as a prime example of why a team must never give up.
---