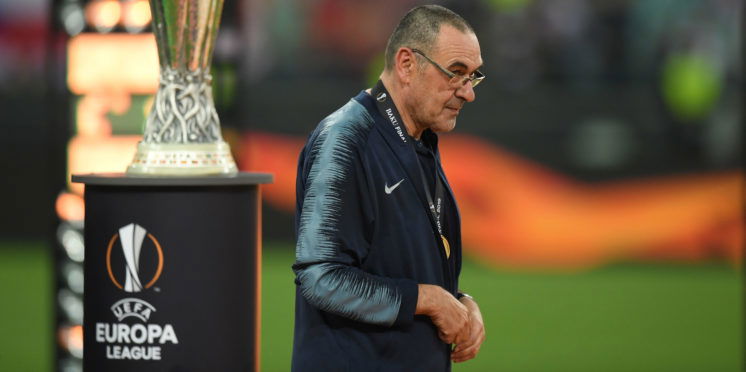 Maurizio Sarri is not Juventus's top choice this summer
Fresh off the back of winning the first trophy of his managerial career, Maurizio Sarri has continued to be inundated with reports of his imminent departure, as Italian champions Juventus look to sweep in and take the chain-smoking tactician back to his homeland.
These rumours, however, have now been disputed, with Italian football expert Adam Digby suggesting that Sarri is merely a fall-back option should the Old Lady fail to tempt Pep Guardiola or Mauricio Pochettino over to Turin.
Upon Massimiliano Allegri's sudden departure from the Italian giants, with whom he won a record four consecutive domestic doubles, reports began to surface that underfire Chelsea coach Sarri would be the man to replace him.
However, in an interview with Sky Sports News, Digby seemed to think otherwise, stating that:
Juve see him almost like a fall-back. They're looking at Pep Guardiola and we know they're looking at Mauricio Pochettino. They're still trying to target one of those two, but keeping Maurizio Sarri as a fall-back option.

I think that's why the issue of Sarri's compensation and getting out of his contract at Chelsea is taking so long; because Juve are not stood there saying, 'OK, we'll just pay it and have this manager'.
Despite his assertions that Sarri is not the man Juventus feel they can rely on to deliver a long-awaited Champions League title, Digby did not fall short of explaining what an impressive job the 60-year-old had done in guiding Chelsea to a third-place finish and a Europa League title in his first season at the Bridge.
It's fantastic. The one thing that you need to look at when you're analysing that is the fact that, of all his seasons at Napoli, his first season was the worst. It only gets better from there.
---